Estate planning services.
An estate plan helps ensure the money and other assets you've accumulated during your life are preserved and passed on to the loved ones or charitable organizations you care about.
In addition, an estate plan includes other considerations — such as appointing those you trust to carry out your plan or care for minor children, planning for unexpected circumstances such as incapacity, and appointing loved ones to make healthcare decisions if you are unable to do so.
An estate plan may include a will or trust (or both), a power of attorney, and a medical directive. As part of the plan, we may also review and recommend updating beneficiary designations on life insurance policies, and review and recommend updating retirement plans.
Our goals are to serve as trusted advisors in the planning process, draft a plan suited to your personal circumstances, and provide peace of mind that your plan can be carried out.
We know that talking about end of life decisions, money, taxes, and family concerns can be difficult. So, you can expect us to sit down with you, listen to your concerns, goals, and values, and recommend a plan consistent with your personal values, wishes, and goals.
Learn more about our estate planning process or contact us by phone at 503-639-6176 or email to discuss your estate planning needs. We look forward to talking with you.
Probate administration.
Probate is the legal process for distributing a deceased person's assets and the personal representative is responsible for completing this process. The personal representative is often a spouse or other loved one.  
We know that taking on this responsibility following the death of a loved one can be overwhelming.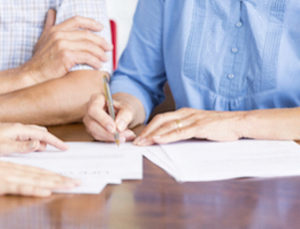 Thus, we make it our priority to guide you through the process, provide clear instructions for the responsibilities you will have, and promptly answer any questions you may have. In addition, we insure that all the steps required by the court and state law are carried out in a timely and professional way. For smaller estates, we assist with the simpler process known as a small estate affidavit.
Trust administration. 
We advise individual trustees on a variety of trust matters. When an individual dies who has a revocable trust, a successor trustee must assume the duties of administering the trust  and final distribution or managing the trust for  an extended period. For individuals unfamiliar with trusts, the responsibilities that come along with this role can seem complex and highly technical. Towards that end, we work with trustees, providing legal counsel. We help you navigate this often unfamiliar process and counsel you regarding your legal duties and obligations to the beneficiaries of the trust, including among other things, the responsibility to manage and protect the assets, make required distributions, and pay liabilities. 
Learn more about our process for working with probate and trust administration clients or contact us by phone at 503-639-6176 or email. We look forward to talking with you.